✓ Fully Organic
✓ Made in the USA
✓ Improves Sleep, Pain & Anxiety
✓ 14 Day Money Back Guarantee
---
Full spectrum CBD oil tincture, with a pleasant peppermint flavor. 5000mg is a super dose for extremely powerful relief, with beneficial full spectrum co-factors like CBG, CBN, and CBC to give you with extra effectiveness. It's totally legal, organically grown, and won't get you high.
EFFECTIVE PAIN RELIEF - Our organic CBD hemp oil is a natural anti-inflammatory. Finally, soothe your inflammation and get powerful pain relief, without toxic pharmaceuticals.
HIGH QUALITY BUT NO HIGH - Natural, non-GMO, vegan, cold-pressed, ultra-purified isolate CBD oil with 0.03% THC.
Ingredients: PCR Hemp Oil, Natural Peppermint Flavor.
---
---
Customer Reviews
06/26/2020
Paul R.
Spain
5000
It hasn't arrived yet
06/09/2020
Jimmy K.
United States
Super potent and great light flavor!
This oil in 5000mg form is jus a little "bottle rocket!" One dropper full under the tongue provides approximately 167mg. That's enough to soothe my pain and anxiety as well as lighten up my mood. I have a very high tolerance so I don't USUALLY get knocked out but sometimes, it can be too strong even for me...be careful when dosing, people. Again, POCKET ROCKET. Excellent stuff and great customer service, too. Highly recommended!!
05/21/2020
Jimmy K.
United States
Very potent and mild flavor. Love this.
I'm extremely pleased with the obvious high potency of Sensei's CBD oil in 5000mg amount packed into a tiny bottle. Of course it takes a while to feel mood enhancement and a good night's sleep because it's not vaping! Overall, a powerful dosage. One dropper full is PLENTY ENOUGH even for me. I have a very high tolerance, you must understand. I'm gonna order 2 next time. Wish it came in a box instead of just bubble wrapping but they were very well wrapped and taped up pretty well, too. Great stuff!!!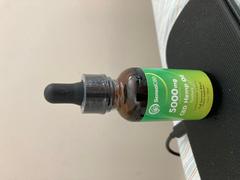 04/03/2020
Kevin T.
United States
I can't tell any difference
I can't tell any difference
02/26/2020
tina g.
Israel
I hope you can offer
I hope you can offer more concentrated one such as 25% CBD